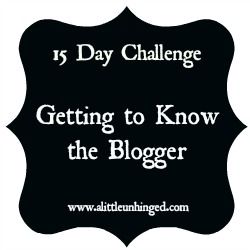 You'll see the questions that I'll be answering each day below. If you are interested in joining in, we'd love to have you. Just copy the questions into a post and fire away. If you're worried about posting everyday....don't! I encourage everyone who links up to make this challenge your own. Do what you want with it. Start it when you want, do every post in a week or answer all the questions in one day....whatever! My 15 day challenge will probably turn into 30 or 60 days. Just have fun!
Once you start your challenge, come back by and link up your first post about it here on
A Little Unhinged
. There will be an
InLinkz
form on each of my Challenge posts. The only thing I ask is that you provide one link (or more) back to my website somewhere along the way. You can also grab the button above if you'd like!
Introduction to the Challenge and a little about myself
I started this website in July of this year. I was new to blogging and jumped right in like I usually do to anything new that interests me. In just this short time, I've not only found out quite a bit about myself that I wasn't aware of but I've met some really interesting people along the way. I've met wonderful mothers, creative crafter's, hard working business women (and men), beautiful fashionista's, funny bakers and much, much more. Many of whom I know if we lived closer together, we'd probably be out having a nice frosty beer (or shot) somewhere. Perhaps even dancing on the bar together (or laughing at the other drunk girls that were dancing on the bar).
Which brings me to why I started this challenge. With all the wonderful people I've met...I just want to learn more about you. Not in a weirdo stalker way....don't worry!
Over the course of this challenge you will learn a lot about me. You will learn that my life wasn't all peaches and cream, that I've made A LOT of bad decisions and some really good ones, that my husband and children mean the world to me and if you threaten or try to harm them......you will see that this gal here fears noone. You will also learn that'd I'd do anything for anyone but I'm far from naive and will chop you in the throat if you double cross me.
For now, I will tell you that I'll be 32 in December. I just started working from home, in my pajamas, taking inbound customer service calls for a wireless company. Well, actually I'm still in training for a couple more weeks but regardless...I'm still in my pajamas at work. How many of you can say that? (stay at home moms don't count)
I've been married for almost 3 years now to my best friend and super hero. We've had our ups and downs in this short time, like many of you I'm sure, but there's noone else in this world I'd rather be with. Him and I both have children from previous relationships/marriages and none together, so things are always exciting. (That was sarcasm)
I really hate to cut you off here but I have to leave some stuff for the rest of the challenge. Plus, I don't want to make it too easy for those of you who are stalking me. Don't forget join in on the challenge and come link up below. :)
-------------------------Copy Below this Line to add to your blog--------------------------