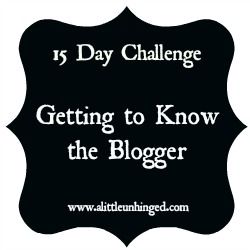 Part of being a successful blogger is connecting with your readers on a personal level. In some niches, you can be more personal than others. For an example, a mommy blogger shares stories and pictures of her children and family.
I consider A Little Unhinged to be a techy or tips/tutorials kind of blog and it's a bit challenging trying to get personal. How can I share personal stories or pictures when I mainly write about Blogger and social networking? I guess I could post a picture of me pulling my hair out and my husband and kids laughing at me in the background. (This often happens when I can't figure out how to do something right away)
This has been weighing on my mind for a while now and I finally decided to start this challenge and encourage other bloggers from all niches to join in. No reason why we can't get personal with our readers as well.
I will begin my challenge Tuesday, November 13th and hope to see you join in. This challenge is open to any and every blogger, no matter what niche you are in. Below the challenge, you will see an inlinkz to so you can enter your blog. Link up so my readers can find your challenge and get to know you as well. They may decide to stay!
* You can start your challenge whenever you want and I encourage you to make it your own. Personalize it however you want. All I ask is that you provide at least one link back to me sometime during the challenge.
-------------------------Copy Below this Line to add to your blog--------------------------